Training in principles of infection control specifically for professionals in child care settings such as day care centers and pre-schools.
Principles of Infection Control for Child Care Professionals ver. 5

The target audience of this course is child care professionals, such as administrators, teachers, and assistive staff who are employed in settings such as day care programs and pre-schools.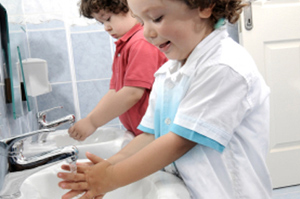 The course is based on the curriculum used for mandatory infection control training of health professionals in New York State. Child care settings and health care settings are similar in that they serve a population with increased susceptibility to infections. As such, it is important for caregivers and administrators to possess a thorough understanding of infection prevention techniques so that they may take steps to decrease the risk of transmitting infections and acquiring infections through occupational exposures.
The course work was authored by Regina Napolitano, RN, MA, CIC, a certified Infection Control Practitioner with more than 30 years of experience in the field of infection control and epidemiology. Ms. Napolitano is approved by the New York State Department of Health and the New York State Education Department as a provider of infection control education to all health care disciplines.
This is a 4 hour continuing education curriculum which also fulfils requirements for one hour of training in Bloodborne Pathogens.
CLICK HERE to view curriculum and objectives for this course
The course content was reviewed and updated: March, 2018
---
This course is approved by the New York State Office of Children and Family Service Distance Learning Review Committee for training hours which meet the NYS regulated training requirements.
The following NY State OCFS Training topics are addressed:
- Nutrition and Health Needs of Infants and Children (OCFS)
- Statutes and Regulations Pertaining to Child Day Care (OCFS)
---
Iinstructions For Completing This Course
You must register for the course by clicking the link entitled REGISTER FOR COURSE located at the bottom of this page. As you read through the material on the course pages, you will be occasionally prompted to answer exam questions. There is a total of 30 multiple choice questions in this course. You must achieve a minimum grade of 80% (24 correct answers) to receive a certificate of completion.
When you have answered the last exam question, the Course Results page will display. This page will contain your final grade and allow you to immediately print your certificate if you have scored a minimum grade of 80%. Your certificate will also be available on your Control Panel where you may print it at any time.
Course work does not need to be completed in one online session. You can log off at any point and return to the course at your convenience. All course work that has been completed up to the time of logoff will be saved.
---
Registration Fee
The registration fee for this course is $39.00. The registration fee includes two opportunities to pass the examination. In addition, all participants will be provided with an online library of valuable references pertinent to the topics covered in the course material. The reference material also includes the full course text from this presentation. The Course Reference Page is available from the Control Panel upon successful completion of the course.
---
Contact Information
If you have any questions or concerns about this course, or if you require assistance with navigating the course-taking process, you may contact a Customer Service representative at 888-345-6788, or e-mail to ceo.contact7@proceo.com.